2014.12.02: TDE R14.0.0 Release Candidate 2 (RC2) is now available for download!

R14 has been over 2 years in development. This delay has allowed us to create a better, more feature-rich and more stable product than previous TDE releases. R14 is brimming with new features, such as a new hardware manager based on udev (HAL is no longer required), full network-manager 0.9 support, a brand new compositor, significantly improved compliance with XDG specifications, a revamped, modern style engine, built-in threading support, and much more!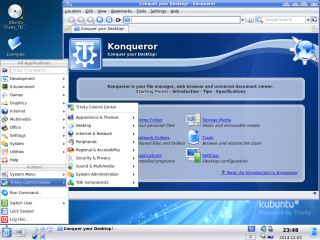 TDE R14 RC2 is available as either a LiveCD built on Ubuntu Trusty or as a set of packages for Ubuntu (Lucid, Precise, Trusty) or Debian (Wheezy). While the final TDE R14.0.0 release will support additional series this limited set was chosen to both increase reliability (all of these series are Long Term Support or equivalent) and shorten time-to-release (the TDE servers are still bandwidth-limited).
Installation instructions and Known Issues are available here:
https://wiki.trinitydesktop.org/Ubuntu_Trinity_Beta_Repository_Installation_Instructions
Please test and report any regressions to the bug tracker. Please do not report issues listed under the Known Issues section; we are already aware of them and most, if not all, will be fixed in RC2.
As always the TDE project needs your financial support. Developing and building TDE is expensive; your support helps shorten release cycle times, add new features, and improve the quality of the TDE codebase. If you like what you see
please consider donating to the project
.
Let us know what you think on the
mailing lists
, and enjoy!
Press Contact Information
Project Lead: Timothy Pearson, kb9vqf@pearsoncomputing.net
SRU Release Coordinator: Slavek Banko, slavek.banko@axis.cz
Go back to News
© 2011-2019 Trinity Desktop Project